About Us
The Krewe – Our Mission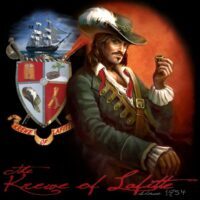 The Krewe of Lafitte is a society of gentlemen, formed in 1954, whose purpose is to foster fellowship and equality within its membership and share goodwill and community service throughout the region. Our goal is to build lifelong friendships among our members and give back to our communities and the charities we support in NW Florida.
We will entertain the people of Pensacola during the Mardi Gras season with our own Krewe of Lafitte's Illuminated Parade featuring our 12 hand-built, pirate-themed floats, joined by other organizations in our area, throwing beads, stuffed animals, moon pies and other surprises to the awaiting crowds. We will also further entertain the public by participating in the Pensacola Grand Mardi Gras Parade, Pensacola Beach Mardi Gras Parade, Pensacola Christmas Parade, Pensacola Beach Christmas Parade, and Pensacola Grand Fiesta Parade. We participate in several parades and festivals throughout the region with our 3 traveling floats like the Milton Mardi Gras Parade, Milton Christmas Parade, Panama City Beach's Dominique Youx Pirates of the High Seas Festival and Parade, Navarre Mardi Gras Parade, and Bradenton's Hernando DeSoto Historical Society's Parade and Festival.
In addition to all the communities we will entertain, we will support, through our Foundation and our members, various prostate awareness, education, and wellness entities with our annual Pirates for Prostates Golf Tournament.
We will make "Good Will – Giving Back to the Community" visits to various schools, ARC, Children's Hospital and Ronald McDonald House. We will also participate with our brother Krewes, Springtime Tallahassee and the Rough Riders in their annual "Teddy Bear Run" visiting with the special children in Leon County, Florida during the Springtime Tallahassee Festival.
We also love working with the other area Krewes like Krewe of Airship Pirates, Krewe of Cheer, Krewe of Aphrodite, Krewe of Vixens, Krewe of Seville, Krewe of Dominique Youx, Crewe of DeSoto, Navarre Krewe of Jesters and many more.
We also assist with relief efforts when a crisis arises ,such as a hurricane, within our community, our state, or our region through donations from our generous membership, our Foundation and the wonderfully generous people of Pensacola and surrounding areas.
You will find that most of our members, when not being bloodthirsty pirates, are very involved in supporting our community and making it a better place to live. We are the Pride of Pensacola since 1954.