KREWE OF LAFITTE'S 13th Annual Cash Bash "Vegas, baby!"
SOLD OUT!!! We can't wait to see everyone!
The Krewe of Lafitte will hold its 13th annual cash bash on Friday, September 15, 2023. This is not a closed event…invite friends, family…whoever you like to party with. Dress is casual.
$50 ticket admits one. All attendees must have a ticket.  10 tickets reserve a table. Buy more than one ticket to increase your odds of winning. Only 300 tickets will be sold.
Insurance: $15 per ticket (optional). The fifth ticket drawn in each group of 10 goes back in the barrel for a second chance (only if the insurance box has been checked).
There will be open bar, entertainment, dancing, and CASH prizes all evening. (Bring a side dish or dessert)
New location!! Zelica Grotto 1000 South K Street Pensacola, FL 32502. 1 block west of Sanders Beach Community Center.
Prizes:
• Every 10th ticket drawn = $50
• 5 random tickets drawn = $200
• Final prize $4,000(share offered to last 5 tickets)
You must be present to win OR send a friend with your ticket.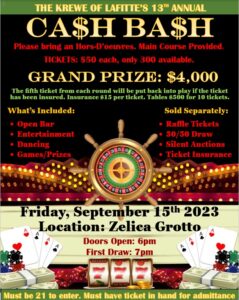 Details:
• Date: 09/15/2023
• Time: doors open at 6pm, first draw at 7pm – 11:00pm
• Place: Zelica Grotto 1000 South K Street Pensacola, FL 32502
Contact:
Jonathan Woodard
202-482-6009
jwoodard205@yahoo.com
Krewe of Lafitte "Pirate Clay Shoot"
Come have some fun with the Krewe of Lafitte Pirates and your friends while we shoot some clay pigeons! Mark your calendars for November 18, 2023.
Click here for registration sheet:  kol_clayshoot